EuroFoam Insulation System



Our installation process:
EuroFoam is spray applied foam insulation. As it's been sprayed it expands 100 times its initial volume, to fill every crevice, virtually eliminating air leakage, convection and airborne moisture movement. EuroFoam is totally cured in about 20 seconds and can be covered almost immediately. Excess material can be easily trimmed after application. There is virtually no mess left when EuroFoam is installed.

EuroFoam can be injected to areas that are inaccessible for other insulation products, it can be injected into small openings to ensure a high level of performance.

There are two types of EuroFoam available Open Cell & Closed Cell.
EuroFoam can be applied to:
Residential Buildings


Commercial Buildings


Industrial Building


Agricultural Buildings


Attics


New build timber frame houses


Ceilings


Floors
Click here for more information on Open & Closed Cell EuroFoam, and see which one is suitable for you.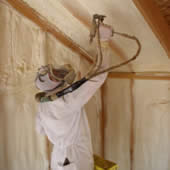 EuroFoam is spray applied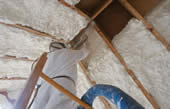 After about 20 seconds EuroFoam expands 100 times its original volume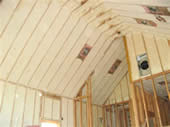 Attic insulated with EuroFoam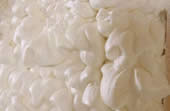 EuroFoam