Latest News
EuroExternal are hosting an Info Evening in Tertiary Hall, Claddagh Church on Thursday 23rd Feb from 7-9PM
Posted: Friday, February 17, 2012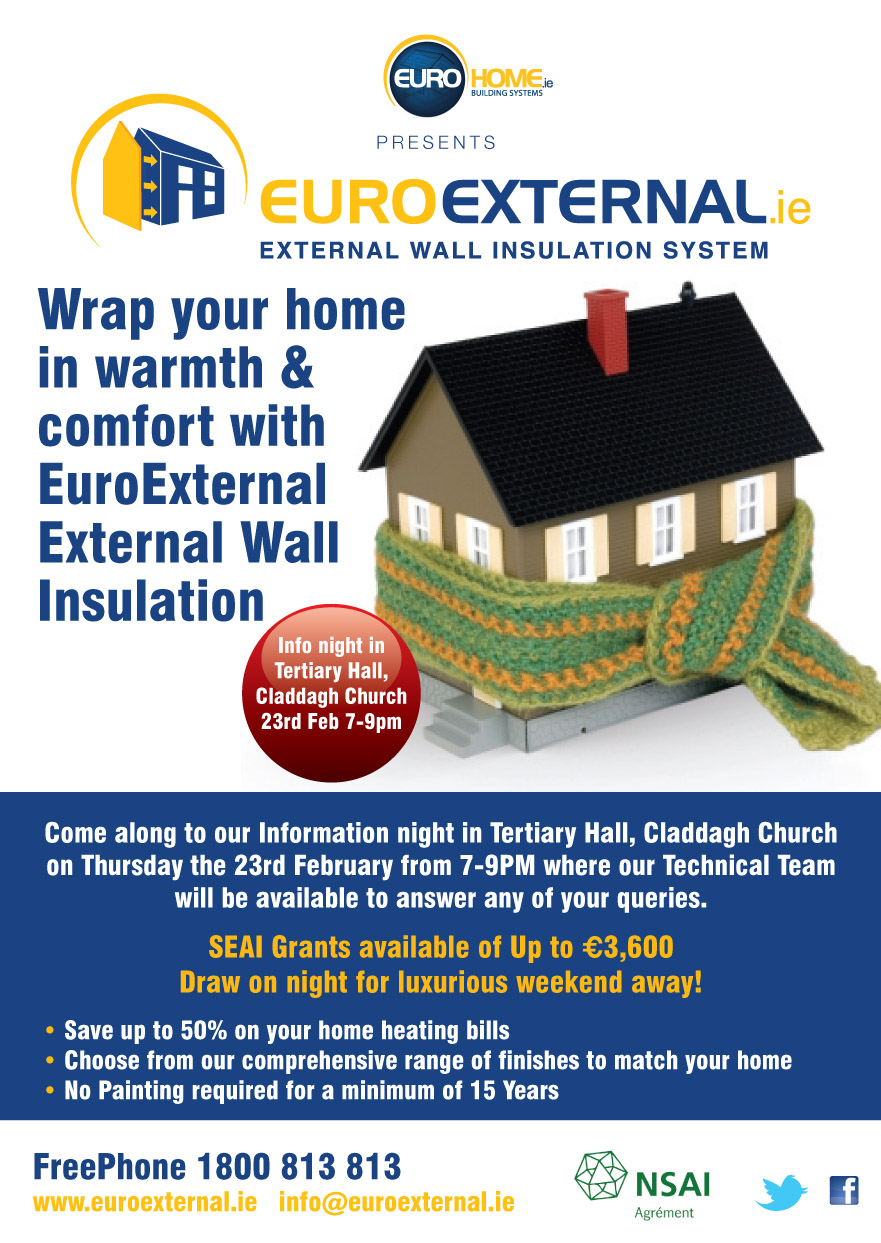 ---
EuroExternal are hosting an Info Evening in The Galway Bay Hotel on Thursday 16th Feb from 7-9PM
Posted: Friday, February 10, 2012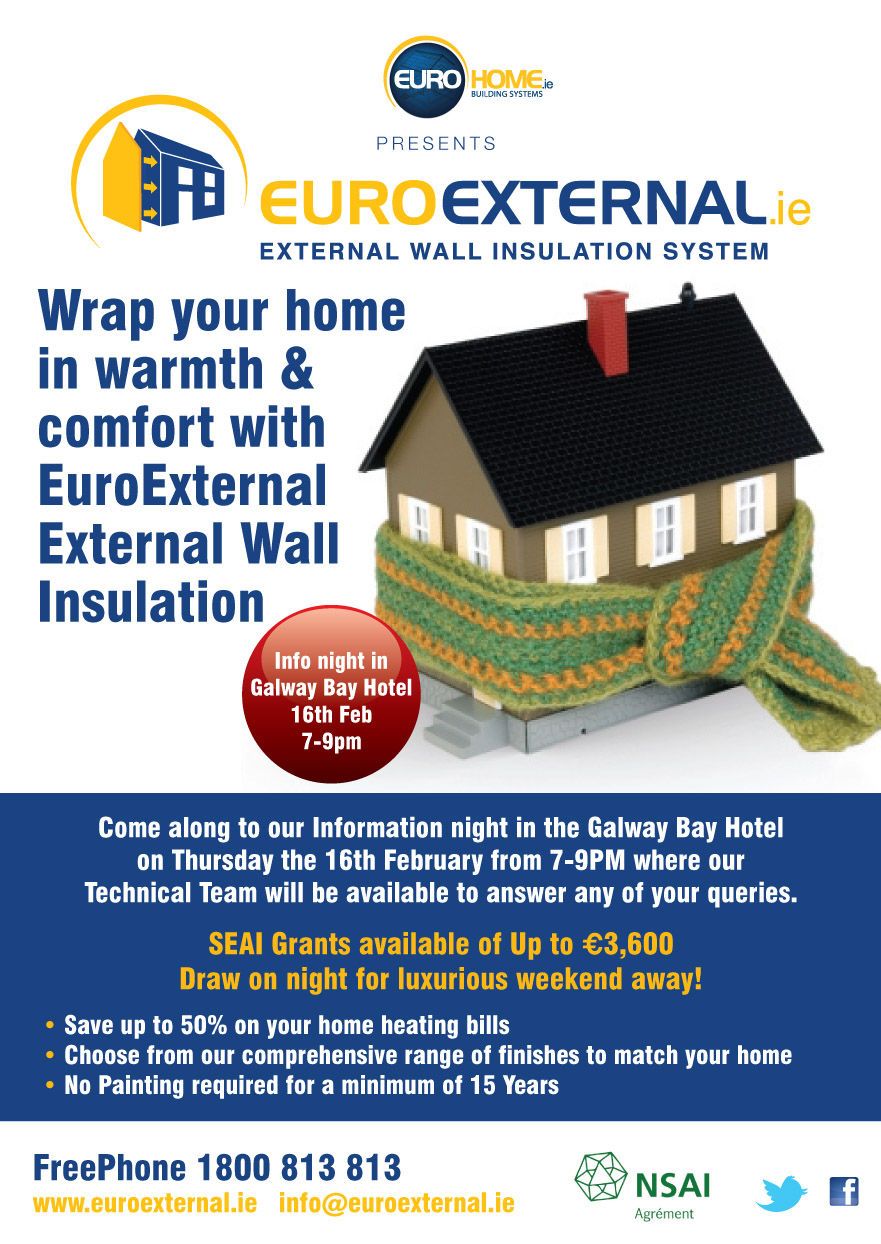 ---
Check our Newest product EuroExternal - External Wall Insulation feature in this months Ur Dream Home Magazine!
Posted: Wednesday, November 16, 2011
Click here & check us out in this months Featue in Ur Dream Home Magazine!
---
Did the cold snap affect YOU last winter?
Posted: Thursday, January 01, 1970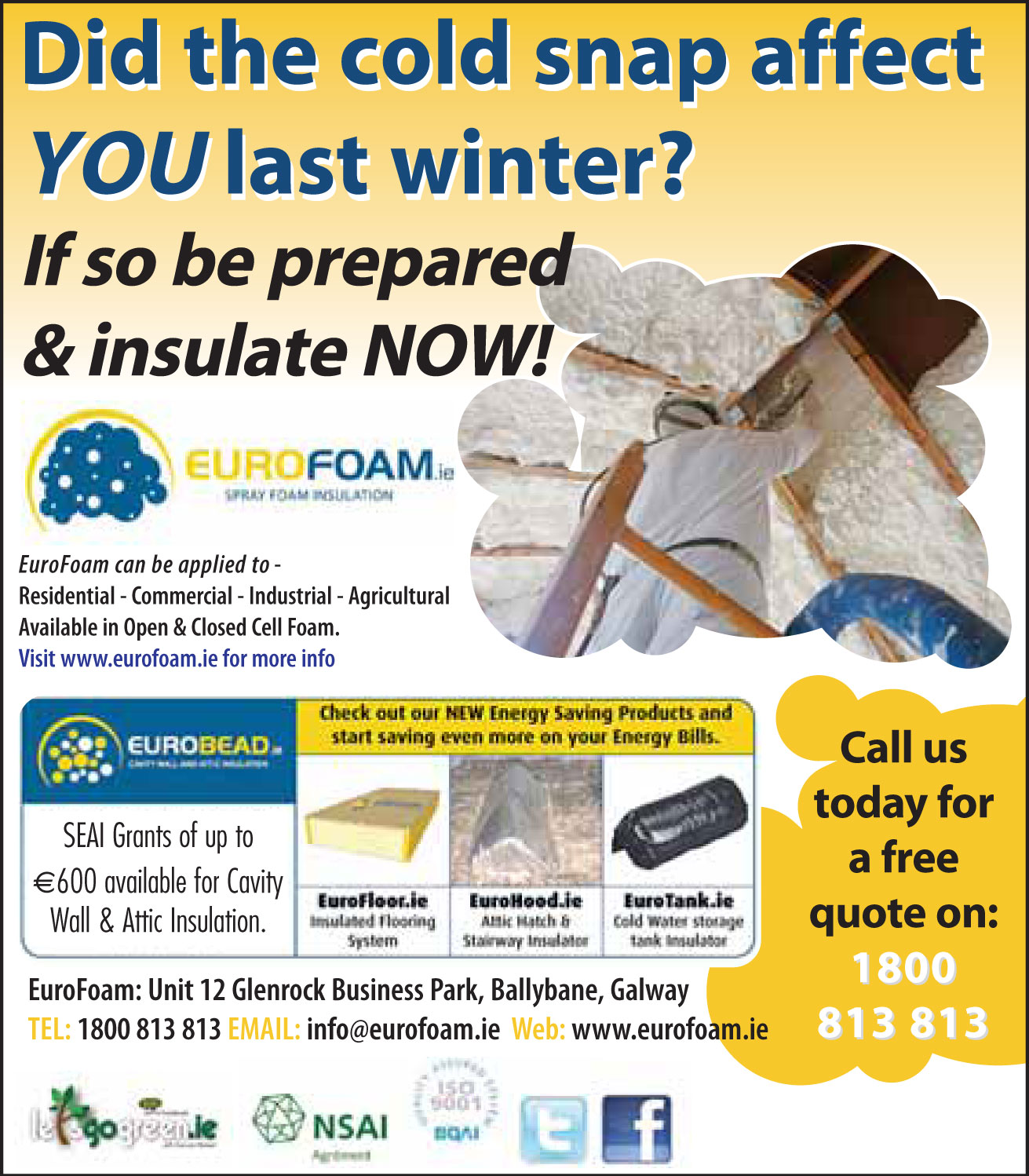 ---
EuroExternal & McDonoghs Information Day
Posted: Thursday, September 29, 2011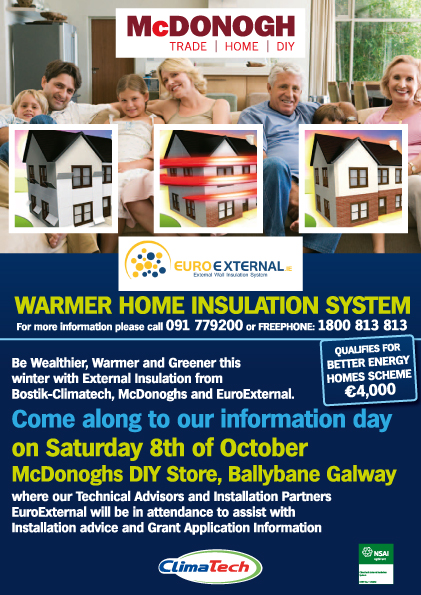 Join us on Saturday 8th Oct from 9 until 3 in McDonoghs DIY Store, Ballybane, Galway where we will be available to assist with installation advice and Grant Information. FreePhone
1800 813 813
for more information.
---
EuroBead launch EuroExternal.ie - External Wall Insulation System
Posted: Thursday, September 29, 2011
EuroExternal

a subsidiary arm of the EuroBead Insulation brand have just entered the External Wall Insulation System market. EuroExternal is ideal for buildings with a single skin construction (mass concrete, precast concrete, cavity block). Passive housing can be achieved through the use of external wall insulation as there is no restriction on the dept of the insulation and very low U-Values can be achieved. The application of EuroExternal reduces heating bills, improves your comfort and reduces carbon emissions also.

EuroExternal specialise in External Wall Insulation System. The product is designed with an extended lifespan of a minimum of 30 years, designed & tested for the Irish climate so you receive the best performing system on the Irish market. With up to 40% heat lost through external walls, EuroExternal can help reduce your heating bills by up to 50%.Grant aid of €4,000 is available from SEAI towards your External Wall Insulation project.

FreePhone 1800 813 813 TODAY for your Free quotation on EuroExternal - External Wall Insulation System
---
Check us out in today's Galway Independent 'Don't move if you can improve' feature
Posted: Wednesday, June 22, 2011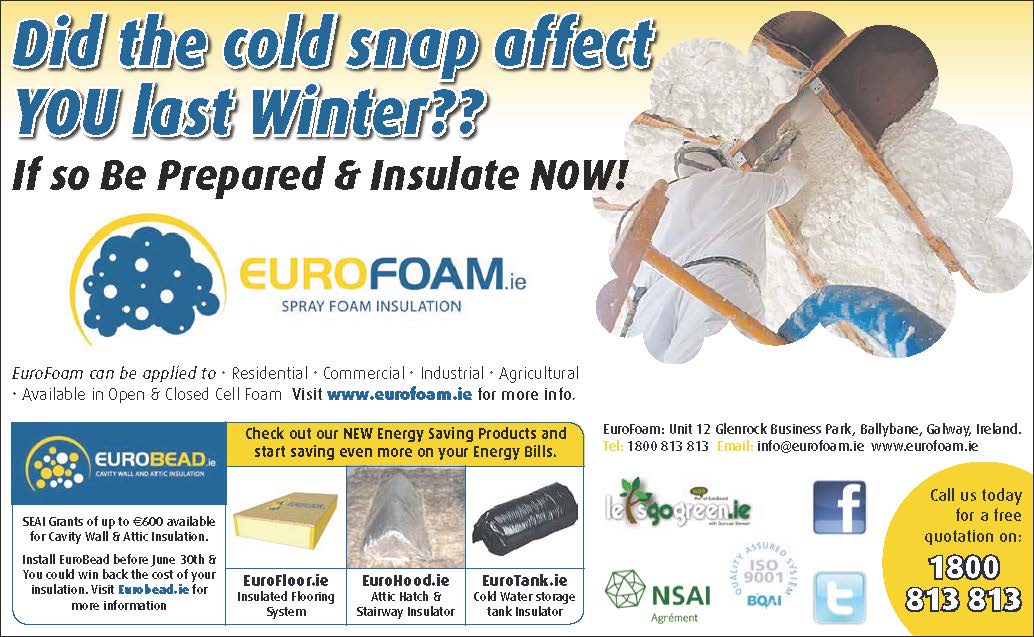 Be Prepared , Insulate now with EuroFoam Insulation!
Were you affected by the cold snap last winter or concerned about freezing pipes? If so be prepared this year and Insulate now with EuroFoam Insulation.
EuroFoam's spray applied insulation is a water blown system, made form bio renewable materials and is completely free from harmful emissions. It is available in both Open & Closed cell systems and can be applied to Residential, Commercial, Industrial, & Agricultural projects. It creates a healthier draft free environment.
Our fully trained Sales Representatives can advise you on your home insulation requirements and provide you with a quotation free of charge.
By installing EuroFoam you will increase the air tightness of your home which as a result will require less energy to heat & cool. It will also improve the energy efficiency of your home. You can reduce your monthly energy bills by up to 50% when you install EuroFoam.
EuroFoam provides the highest U-Values available on the Spray foam market and is NSAI Agrément Certified and manufactured in Ireland. Visit www.eurofoam.ie for more information on U-Values and our product.
EuroFoams's sister company EuroBead the Cavity Wall & Attic Insulation specialists have recently launched an extensive range of Energy Saving products which help aid further savings in the home. Check out Eurobead.ie for more information on these products.
Don't forget that SEAI grants of up to €600 are still available towards insulation in your home.
For a competitive quotation from EuroFoam or EuroBead contact our Head Office at FreePhone 1800 813 813 or alternatively visit www.eurobead.ie / www.eurofoam.ie
---
EuroBead Insulation are awarded ISO 9001:2008 Certification.
Posted: Monday, May 23, 2011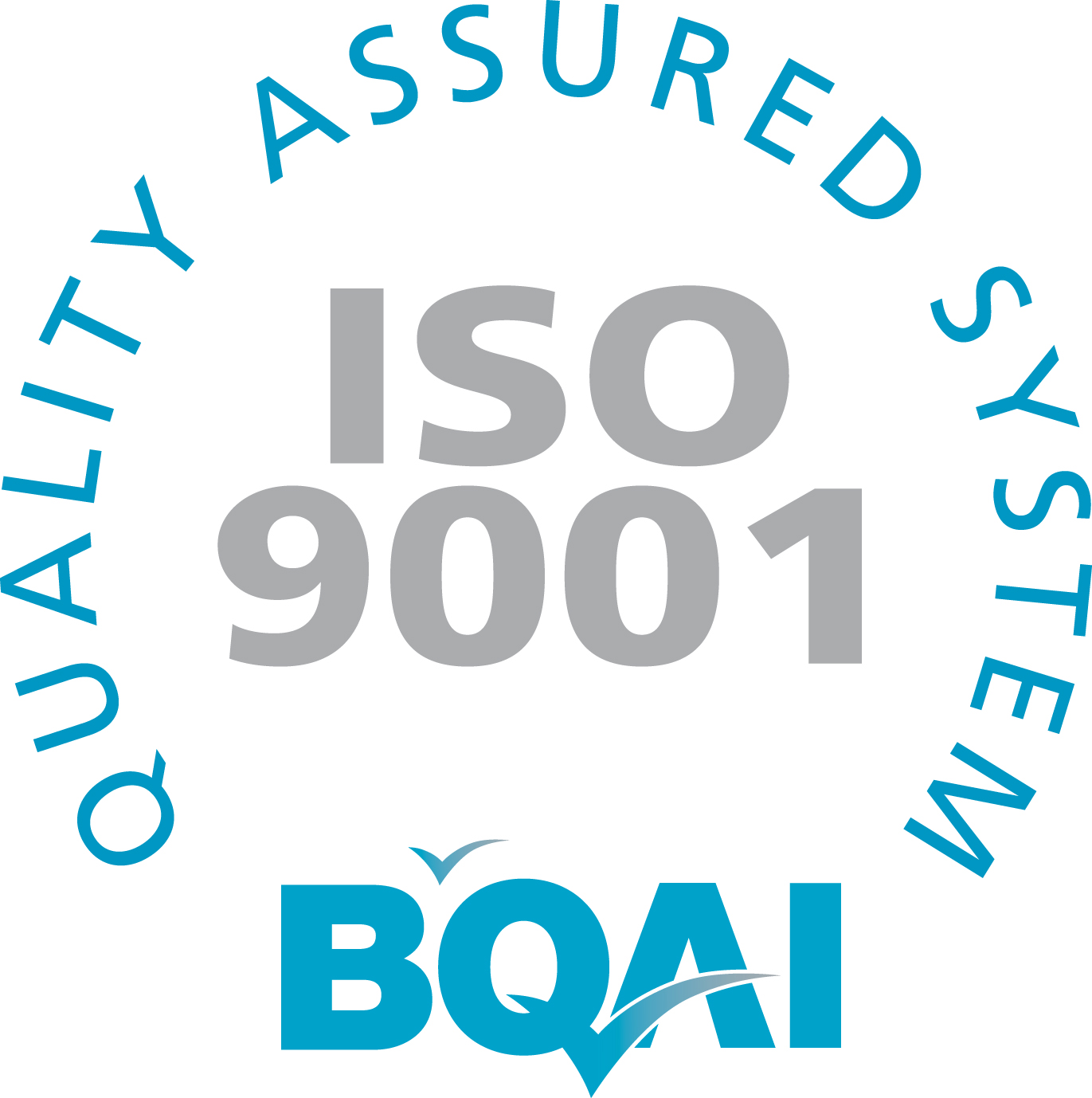 EuroBead Insulation are delighted to announce that they have been awarded with the International Quality Management Standard ISO 9001:2008 Certification for our Quality Management System
---
EuroBead launch new product EuroFloor - Insulated Flooring System
Posted: Tuesday, May 17, 2011

EuroBead launch new product EuroFloor.

EuroFloor is an insulated timber panelling which can be used for attic walkway access and attic flooring systems.It is specially designed to allow house holders to insulate their attic and still use the space for storage. Visit www.eurofloor.ie for more information and product benefits or FreePhone 1800 813 813.
---
EuroBead launch EuroHood & EuroTank websites.
Posted: Friday, February 25, 2011
We have just launched our new EuroHood & EuroTank websites. Visit www.eurohood.ie and www.eurotank.ie for more information and to purchase your EuroHood - attic stairway insulator & EuroTank -cold water tank insulator and start saving today!
---
EuroFoam Advert in Construct Ireland
Posted: Tuesday, October 05, 2010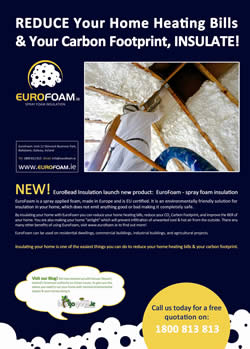 Click on image to view
---
EuroBead & EuroFoam launch new exhibition trailer at Tullamore Show & AIB National Livestock Show 2010
Posted: Wednesday, August 18, 2010
Check out our photo's from the Tullamore Show & AIB Livestock Show 2010 where we launched our new exhibition trailer! We will be exhibiting from our trailer again at the National & European Ploughing Championships 2010 in Athy, Co.Kildare from 21st September to 23rd September where we will be available to answer all your insulation questions that you may have.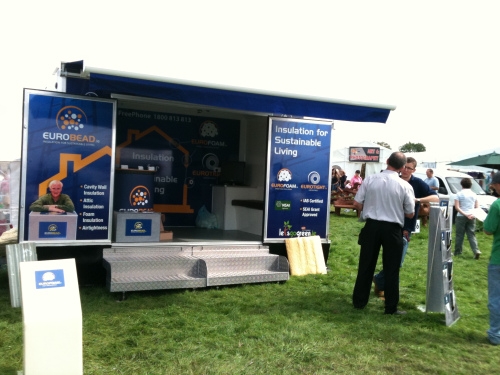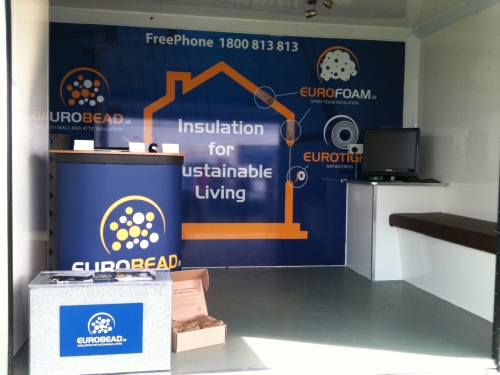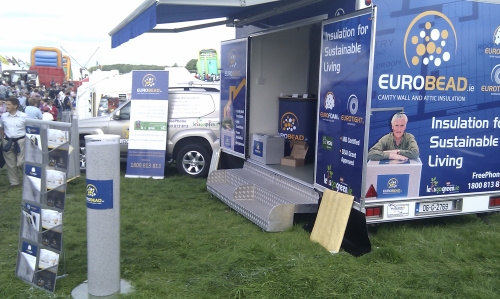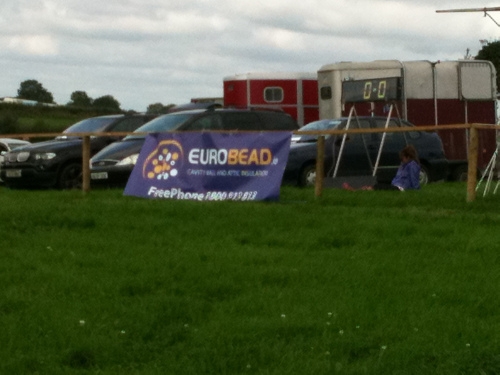 ---
New features introduced to Home Energy Saving Scheme
Posted: Wednesday, June 09, 2010
As from June 8th 2010, Sustainable Energy Authority of Ireland (SEAI) has introduced new measures to the Home Energy Saving Scheme.
Since the scheme was launched in March 2009 over 58,000 homeowner applications were approved. The introduction of an online self survey is now available on the SEAI's website; the survey will only take a couple of minutes to complete and will guide householders towards the most suitable upgrade works.
Householders who apply for the HES grant on or after Tuesday 8th June will be required to use the new application system/form. A Building Energy Rating (BER) will also become an integral part of all grant applications under the HES Scheme from this date. All homeowners must undertake a BER to measure the impact of the works undertaken. Homeowners will also receive a BER certificate with an A -G performance rating, which will inform them of the effectiveness of the upgrade works of energy & Co₂ improvements. Grant Aid of €100 is available towards BER Assessment.
So who can apply? Well same rules apply as before. All homeowners of dwellings built prior to 2006 are eligible to apply for the HES grant. Landlords & owners of multiple properties may also apply.
Grants are available for the following measures:
Roof Insulation
Wall Insulation (Cavity Wall, Internal Drylining, External Wall Insulation)
Installation of a High Energy Efficiency Gas or Oil fired boilers with Heating Controls Upgrade
Heating Control Upgrades
Building Energy Rating (BER)
Funding available for Energy upgrades:
Roof Insulation €250
Cavity Wall Insulation €400
Internal Dry Lining €2,500
External Wall Insulation €4,000
High Efficiency Gas or Oil fired boiler with Heating Controls Upgrade €700
Heating Controls Upgrade €500
Building Energy Rating (BER) €100
Minimum grant amount for 1st application must be €500. The €100 grant for post works BER cannot count towards the €500 minimum.
---
Energy price comparison between Ireland and E.U.
Posted: Thursday, May 27, 2010
Ireland are now one of the leading countries in the world to use wind energy, with renewable energy growing strongly. The SEAI have announced that the share of electricity generated from renewable energy sources in 2009 was 14.4%, two-thirds of which was wind. This ensures us that Ireland is on track to the Government's target this year.
In 2009 alone, renewable energy sources generated enough electricity to power 750,000 homes, half of all households in Ireland. There has been growth in the use of renewable energy for heating and transport, but progress is at a slower pace than the contribution of renewable sources for electricity generation. This will be an area of increased policy focus in years to come.
Commenting on the reports unveiled today, Minister for Communications, Energy and Natural Resources, Eamon Ryan TD said: "I am encouraged by both these reports – clearly significant progress has been made on all fronts, and we are well positioned to meet our Government target of 15% of power being generated by renewable energy sources this year. That being said, we need to increase our efforts, particularly, in the areas of renewable transport and heat sources."
Key Highlights on Electricity and Gas Pricing:
Electricity and gas prices for householders, when adjusted for affordability differences between EU countries, were cheaper than the EU average by approximately 13% for most consumers.
Electricity prices for householders fell by a range of approximately 4% to 12% for small and medium consumers.
In absolute terms Irish electricity prices remain 7% above the EU average for all but the very largest household consumers.
Most householders witnessed an 8.5% to 18% drop in the price of gas.
Business consumers benefitted from a 5% to 10% drop in electricity prices across both small and large users.
Gas prices fell for all business customers, ranging from 9.4% to 26%, with most prices being below the EU average.
Gas prices for medium business users were 11% below the EU average.
---
Lets Go Green - the blog of Eurobead with Duncan Stewart
Posted: Tuesday, May 25, 2010
Why not check out
www.letsgogreen.ie
, and let us know what you think of our New Theme!!
---
4.3 cent Home Heating Oil Hike
Posted: Friday, April 16, 2010
Why not get your home insulated with EuroBead before the 4.3 cent home heating oil hike from 1st May 2010 - Did you know that there is up to €650.00 available in Grant Aid for the upgrading of Cavity Wall and Attic Insulation in your home? FreePhone 1800 813 813 for your Free quotation & for more information today.
---
Newsletter
Posted: Wednesday, February 03, 2010
To Sign up for our Newsletter, send your details to
newsletter@eurobead.ie
---
Budget News 2010
Posted: Wednesday, December 09, 2009
Budget News 2010
- Homeowners will be able to avail of grants totalling €130 million helping to make their homes warmer, more energy efficient, and reduce the cost of utility bills.
---
EuroBead and Duncan Stewart to launch LetsgoGreen.ie
Posted: Thursday, September 10, 2009
EuroBead have joined up with Duncan Stewart, Ireland's foremost authority on green issues, to bring LetsGoGreen.ie to the Irish public. LetsGoGreen.ie is a blog offering free and practical advice on good environmental and energy practice in the home.
New articles will be posted every week on issues that will help to save you money and reduce your carbon footprint. LetsGoGreen.ie will cover a wide range of issues from home insulation to setting the emersion. Visitors will be able to comment on recent posts and put questions to us on matters they feel need highlighting.
Denis O'Connell, Managing Director of EuroBead said that the entire team at EuroBead are looking forward to working with Duncan over the coming years and helping home owners to better equip themselves for sustainable living.
---
We are off to the Ploughing
Posted: Friday, September 11, 2009
On Tuesday 22nd to Thurday the 24th of September we are heading off to the National Ploughing Chammpionships which take place this year on the lands of Eamon and Willie Fennin in Cardenton, Athy, Co.Kildare.
Our team will be exhibiting over the three days and will be happy to discuss anything you need know about our product and service with you. So pop over to our stand and we will be happy to help.
---